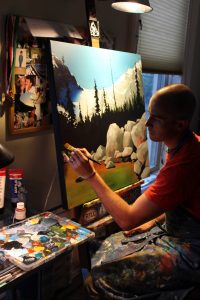 Jesse Crock is a Colorado based artist with a love for the outdoors and climbing. He captures the world around him passionately with strong, bold lines and bright vibrant colors.
Jesse is an Art Teacher and connects his art with the playfulness and energy that his students bring to the classroom.
As a climber, Jesse tries to bring to the viewer's eye places and subjects that are not often painted.  He also challenges his viewers with an abstract portrayal of his subjects and their backgrounds interweaving them together.
Jesse works with a variety of media, but chooses acrylics as his medium of choice. He has participated in a number of solo shows as well as receiving awards in the Jefferson County Teacher's Show and the Colorado Art Education Association Show.
As an artist, Jesse Crock's work has been commissioned by:
The Ouray Ice Climbing Festival, Rock and Ice Magazine and Climbing Magazine for his designs for promotional work and his original designs on outdoor gear.
In addition to having originals and prints for sale, Jesse is available for commission work on helmets and any outdoor gear.