This print is called, Sketch of a Woman and Umbrella by Claude Monet and is a lovely, soft, impressionistic image.
It is framed in a rustic Grey-Blue frame. It has an acid-free periwinkle colored top mat accented with both wheat colored and green mats.
This framed print can make the perfect springtime gift or addition to your home!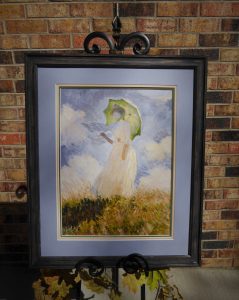 The current sale price is $68.
You may contact us anytime to see this and other prints available at Images Custom Framing!
For an Appointment call Janelle Brian: 303-933-0823